An interesting chart here published as part of an article posted on Ars Technica regarding expected Energy grid changes in 2015: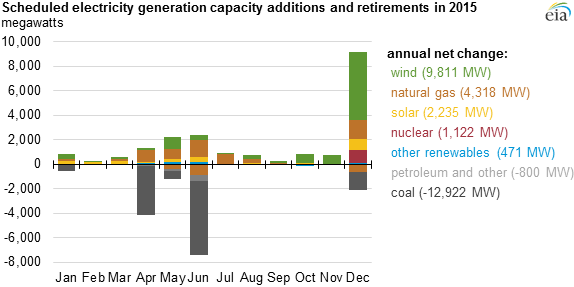 What surprised me was that wind led the pack.   According to the article, there are a bunch of utilities bringing wind farms online at the end of the year.  One important note from the article:
The growth in renewables is notably an underestimate, as it (this chart) only includes utility-scale projects and none of the small-scale and residential installations.
So maybe the ultimate renewable energy mix will be utility level Wind, supplemented by residential solar. So during the day, the grid gets most its power from solar, at night it pulls the utility generated wind power.  If this is the model of the future – then if you wanted invest in solar power, something like Solar City would be the solar stock to own, not Utility Scale builders such as First Solar.
The other interesting data points on this chart show how much natural gas is increasing – largely at the expense of coal.  One important note is that a lot of the incentives for renewables expire at the end of 2015, so it will be interesting to see if natural gas does even better in the near future, until the cost of renewables comes down even more.
One thing appears certain – the future of coal and oil in the energy grid looks pretty dim.  Natural gas and renewables are picking up market share.